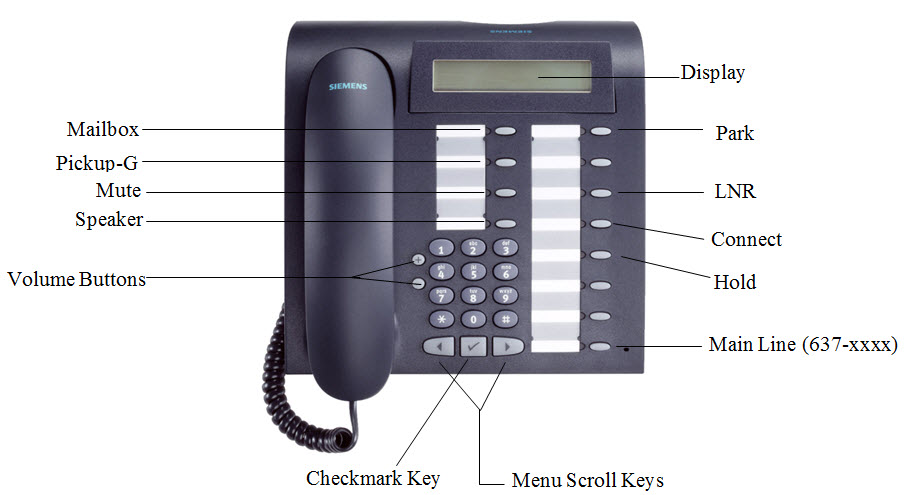 What do these buttons do?
Mailbox - Used to signify when you have received a voice mail and call voice mail to retrieve messages. You also press this button to send a call to voice mail immediately.
Pickup-G - Used to pick up a call of a co-worker. Co-worker must be in your pickup group
Mute - Used to mute the phone so the caller can't hear you.
Speaker - Used to listen and talk to the caller without having to use the handset. To use the speaker phone option on your phone, simply press the Speaker Button on your phone. You can do this at the beginning of a call or in the middle of a call. If you are using the speaker phone and you want to stop using it, simply pick up the phone, and continue on with your conversation.
Park - Used to park a call so someone else in your department can pick up the call at his/her convenience. The system will automatically assign a number to your parked call. It will be displayed on the LCD screen of your phone.
LNR (Last Number Redial) - Used to called the last number dialed on your phone.
Connect - Used to flash back and forth between calls. Example: If you are on the phone when a second call is received (you will hear a beep when a second call is received), press the connect button to flash over to the second call. The first caller will automatically be put on hold when you press connect. Press connect again to get back to the original call.
Hold - Used to put the current caller on hold.
Line (xXXXX)  - The Line button is your extension. The light will flicker when receiving a call. The light will light up when you are on the phone. It will blink when a call is on hold. Press to get dial tone after finished with a call