North Central College provides personal network storage space to faculty, staff and students where users may store and access data.  In addition to personal shares, many academic and administrative departments utilize network storage space (also referred to as network drives) for sharing data and resources within a department. Network drives are available on any campus computer and are also accessible from any Internet browser.  Data stored on any NCC network drive is backed up daily.
---
You can access your North Central College network drives from a personal computer using any Internet browser.   To access your NCC drives follow these steps:
Type the following URL in your Web Browser https://drives.noctrl.edu .
 
You will get a screen that asks for your User Name and Password.  This is identical to your network user name and password.  After entering your user name and password, click on OK.  You will get a screen that looks like the following:

Select the drive that you would like to use under Folders located on the left side and expand it by clicking on the + sign.  Keep expanding down until the file you want to use appears on the right side.  
 

Find the document you would like to work with and place a check in the box on its left.  Then double click that line and you will have the option to select Open, Save, Cancel or More Info.  Save your document to your local "C" drive, the desktop or your flash drive. Do not select open as it will open your document in the browser
 

Make sure that you save the document while you are working on it.  When you have finished working on your document save it and then close the file.
Save your file back on your network drives:
Return to drives.noctrl.edu and find where your file was originally located by clicking on the + signs.


 
Click on the word File which is located above the list of documents.   You will see the following:

Click on Upload.  Use Browse to find the file that you want to upload and when you find it click on it

Click on Upload.  You have placed your edited file on the network drive at NCC
 
 Select the logout icon  to finish.
 
---
Below is a list of the most commonly used network drives at North Central College. Your assigned network drives should automatically map when you login to any Windows Workstation on campus.
---
F Drive:
The F drive is used for storage of personal files and folders.  Access to files stored on an F: drive is restricted to the account owner and ITS System Administrators. Files stored on the F: drive should be reviewed periodically. Any unneeded files should be deleted or archived to prevent users from exceeding their storage quotas.
     - Students receive 500 MB of personal storage space on the F: drive.
     - Faculty/staff receive 4-6 GB of personal storage space on the F: drive.
 
---
N Drive:
The N drive allows departments to share files and folders with each other.  Access to information stored on the N: drive is limited to members of the folder's department. To gain access to a specific folder on the N: drive, an employee must have his/her supervisor contact ITS to request access on his/her behalf. 
 
---
K Drive:
The K drive allows professors to share course files and folders with their students.  Not all courses will utilize the K: drive.
---
W: Drive:
The W: drive allows students, faculty and staff to store files for a College hosted personal web page
 
---
Users can easily check the storage quota on their F: drives while logged on to any campus computer.
Login to a campus computer.

Click on Start -> File Explorer
Right click on the F: drive and select Properties
Click on the OES Info tab
Space Restriction: = your total allotted quota
Space Available:  = the amount of space remaining in your quota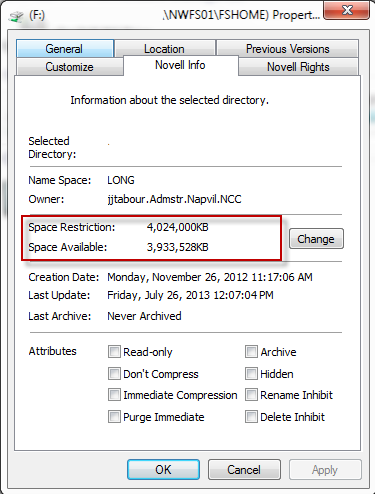 ---
North Central College, students, faculty and staff can create webpages for personal and academic use.  Please follow the steps below to publish your personal page.
Read the North Central College Personal Web Page Policy.

Make your pages. You can code your pages in XHTML directly.

Place the following disclaimer on all personal pages:​

The content and opinions expressed on this page belong to (your name) and are not endorsed by North Central College. The College accepts no responsibility for the contents of these pages.​

Save your pages to your W:\ drive. If these are the first files you've ever saved to W:\, the webserver may need up to twenty minutes to recognize your new website.
Your pages will be published at:
Students:    http://username.students.noctrl.edu/
Faculty:       http://username.faculty.noctrl.edu/
Staff:          http://username.staff.noctrl.edu/
Tips and Tricks:
Always use lowercase for all of your file names and links.

Use relative links to refer to your local pages.

Name your homepage index.htm or index.html.

To check your available space on the W:\ drive: Double-click on the My Computer icon on your desktop. Right click on the W:\ drive, select Properties.